Interaktiver Style Guide für TV-Serie "Adventureres - Masters of Time"
Creative Concept | Art Direction | Grafik Design | Produktion
Short-Guide als Überblick über der wichtigsten Designelemente und als verbindliche Farbvorgabe
Kapitelseite mit navigierbaren Reitern und Kapitelinhalten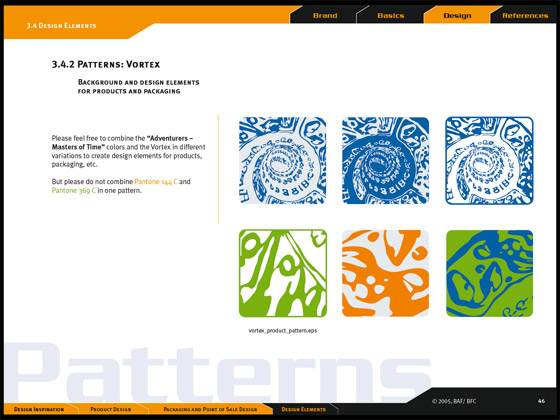 Muster-Beispiel für Hintergünde oder Flächengestaltung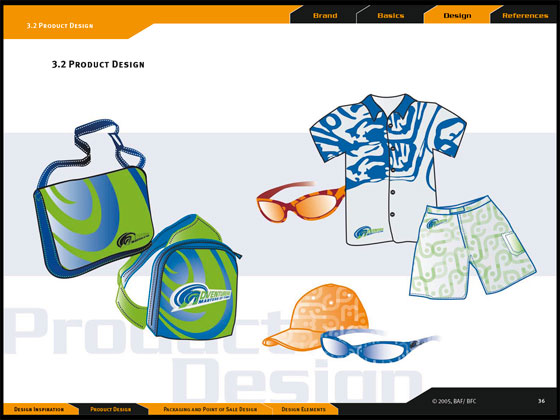 Beispielhafte Produktdesigns als Inspiration für den Lizenznehmer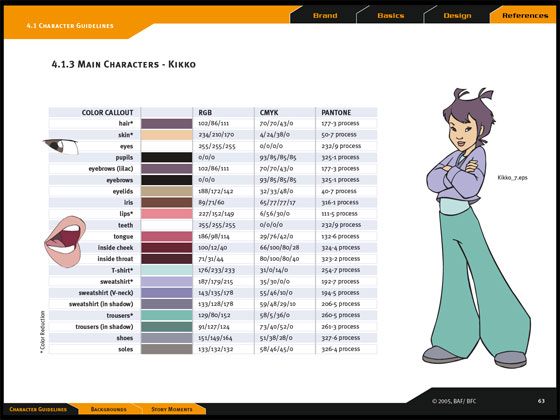 Farbdefinitionen für einen Character
BESCHREIBUNG
Entwicklung eines Design-Systems/Style Guides für die Animations-TV-Serie "Adventureres - Masters of Time". Der Style Guide legt die grundlegenden Designelemente wie Logo, Farben, Layoutraster, grafische Basiselemente (Icons), Muster, Rahmen fest und definiert deren Anwendung im Print-Bereich sowie für die Gestaltung von Merchandising-Produkten, Verpackungen und aller weiteren Medien. Der Style Guide dient Lizenznehmern als verbindliche Inpirationsquelle, um so einen weltweit eindeutigen Marken-Look aufzubauen.
AUFTRAGGEBER
BFC Berliner Film Companie Distribution GmbH
LEISTUNGEN
Konzeption Design, Art Direction, Text Design Manual, Grafik Design/grafische Produktion, Screendesign pdf-Manual, Programmierung interaktiv navigierbares pdf-Manual, Reinzeichnung und Druck DVD-Covercard/-Label, Projektmanagement